I hiked to Camp Muir at 10,000 feet on Mt. Rainier today! It was an amazing day.
I arrived at the Paradise Visitor Center a little before 10 AM, and it took me 4.5 hours up and 3 hours down. At the beginning I was quite fast, within an hour I was already past the High Skyline Trail headed towards Pebbel Creek. Another hour later I was at 8,000 feet and had passed the spot where I had taken an RMI mountaineering day school.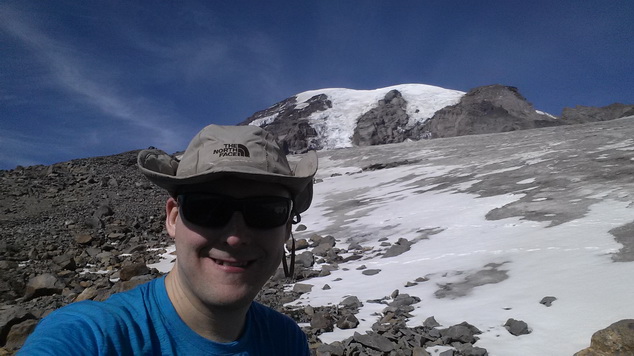 But from that point on, it got difficult. In the third hour, I didn't quite make it to 9,000 feet. It was just too steep and slippery on the ice. And because my new mountaineering boots had torn up my heels two weeks ago, I was only wearing my regular hiking boots. And my crampons don't fit on those. Once I slipped and had to self-arrest, just like I had learned it at the mountaineering day school.
To get from 9,000 to 10,000 feet, where Camp Muir is located, took me about 1.5 hours. It's probably barely more than half a mile, but this is where the crevasses started. First, there were small, narrow ones, and I could hear the water rushing down in them.
But soon enough, there were pretty big transverse crevasses that were several feet wide and stretched hundreds of feet to either side. I had to zigzag through them, to the left, then between two crevasses back to the right, then when the next crevasse ended, back to the left again. This is where I definitely wished my mountaineering girlfriend were there with a rope.
I may have made a mistake here. The snowfield was initially much nicer in the west, so I headed over that way. On my way down, in the east, there were fewer transverse crevasses.
This big crevasse is at about 9,400 feet elevation, near the Anvil Rock.
A lot of the crevasses were snow-covered, but after my boot went through a snow bridge once, I decided to not cross them anymore. Look how long they are!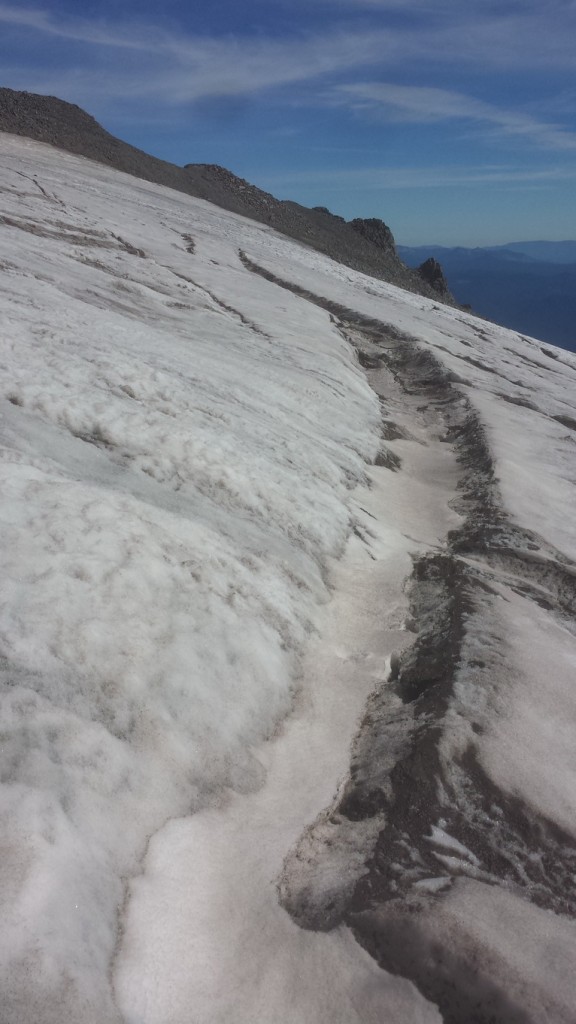 I reached Camp Muir a little before 2:30 PM. I had chosen 3 PM as time to turn around, regardless of where I was. At Camp Muir, there are a few buildings, solar cells, toilets, and so on.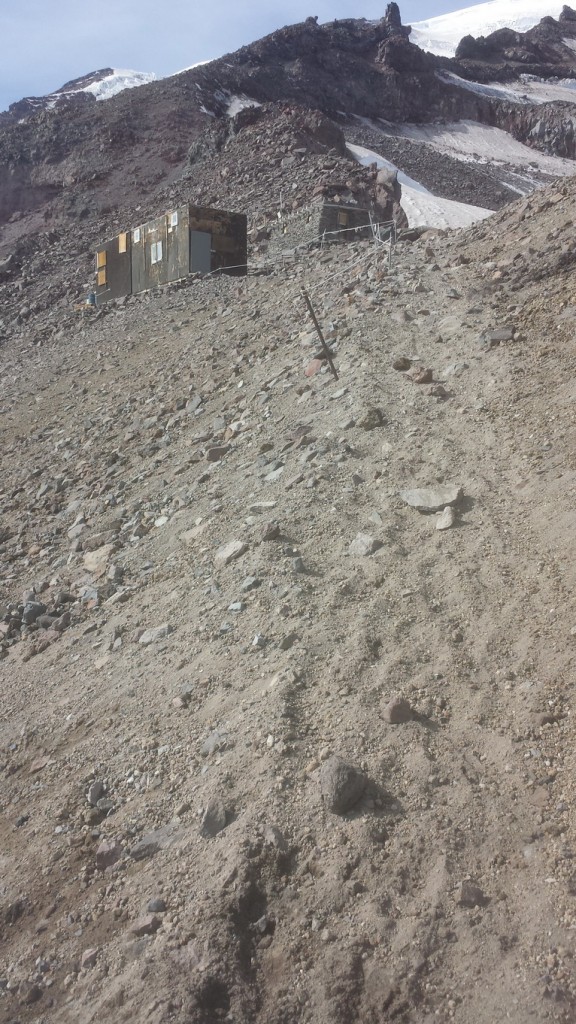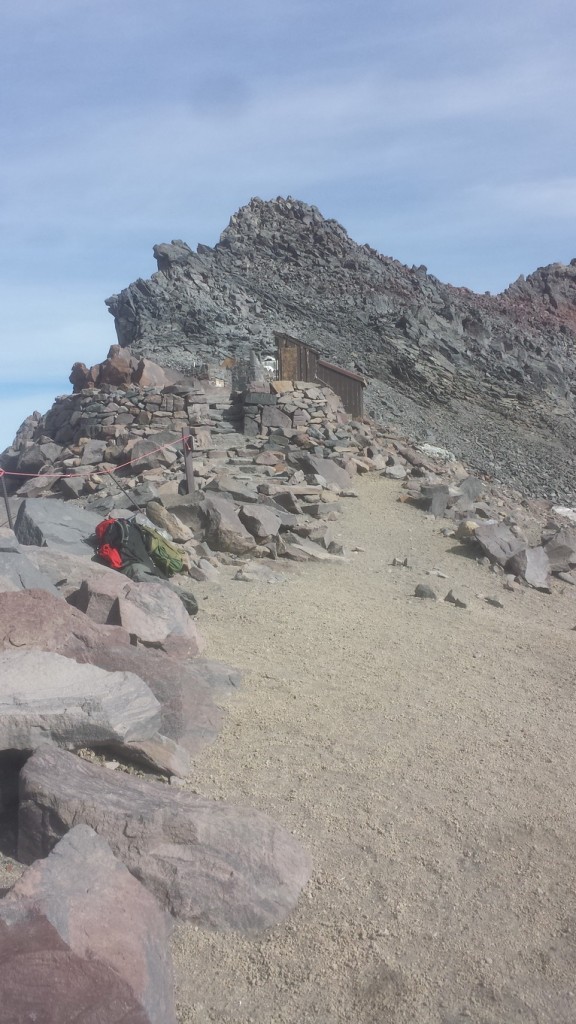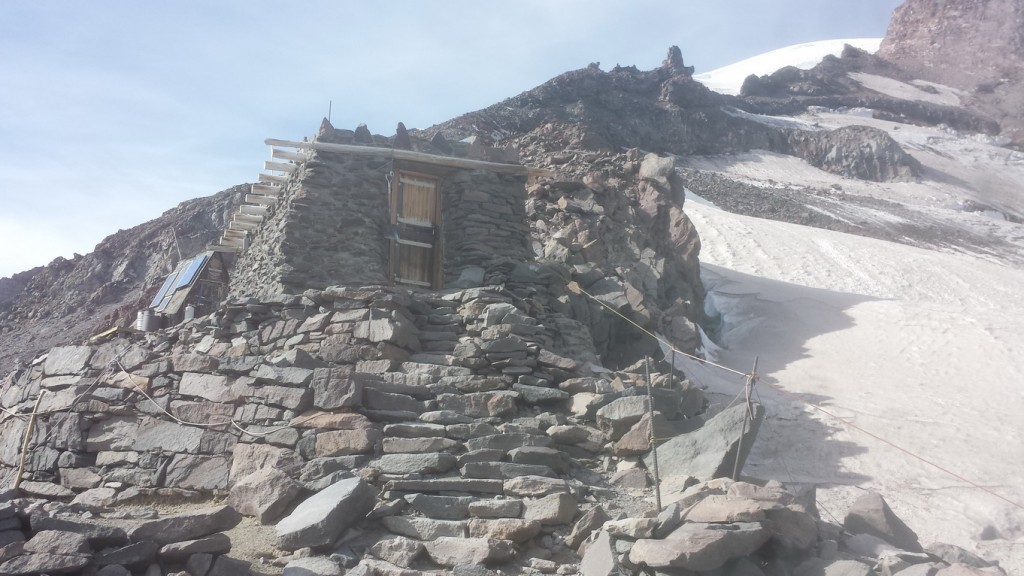 Four other climbers were there as well, on the north side of Camp Muir, doing some crevasse exercises. The area north of Camp Muir, towards the Cadaver Gap, the Cathedral Rocks, and Little Tahoma Peak, is quite dramatic. Giant crevasses!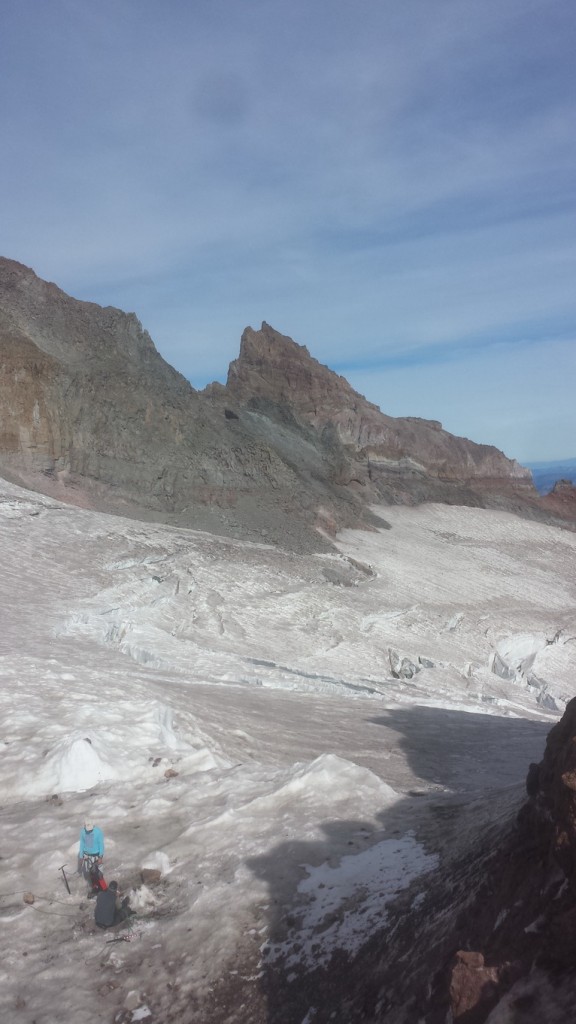 At 10,000 feet, it was difficult to catch my breath, even when doing nothing. The air is so thin! It's an unusual feeling because it's so unexpected. I think at first I almost mistook it for thirst.
On the way down, I slipped one more time and had to be quick with the self-arrest, because I really started to slide down fast. I think my RMI guide would have been proud. And I fell on my butt once, but not because it was steep, just because it was slippery. The mountaineering course was definitely worth it.
I was back at the car at 6 PM, eight hours after I had left.